Nathalie Sallegren is an Australian spoken word poet who participated in a workshop held by Kalle Niinikangas and Andy Willoughby during the Tikkurila SUN-festival in the 18th of May 2019.  She enjoyed the event so much that she sent her prose poem made in the workshop as a gift to all the readers and participants of Tiksi Poetry Club.  We thank Nathalie for her lovely gift and present it here for your pleasure.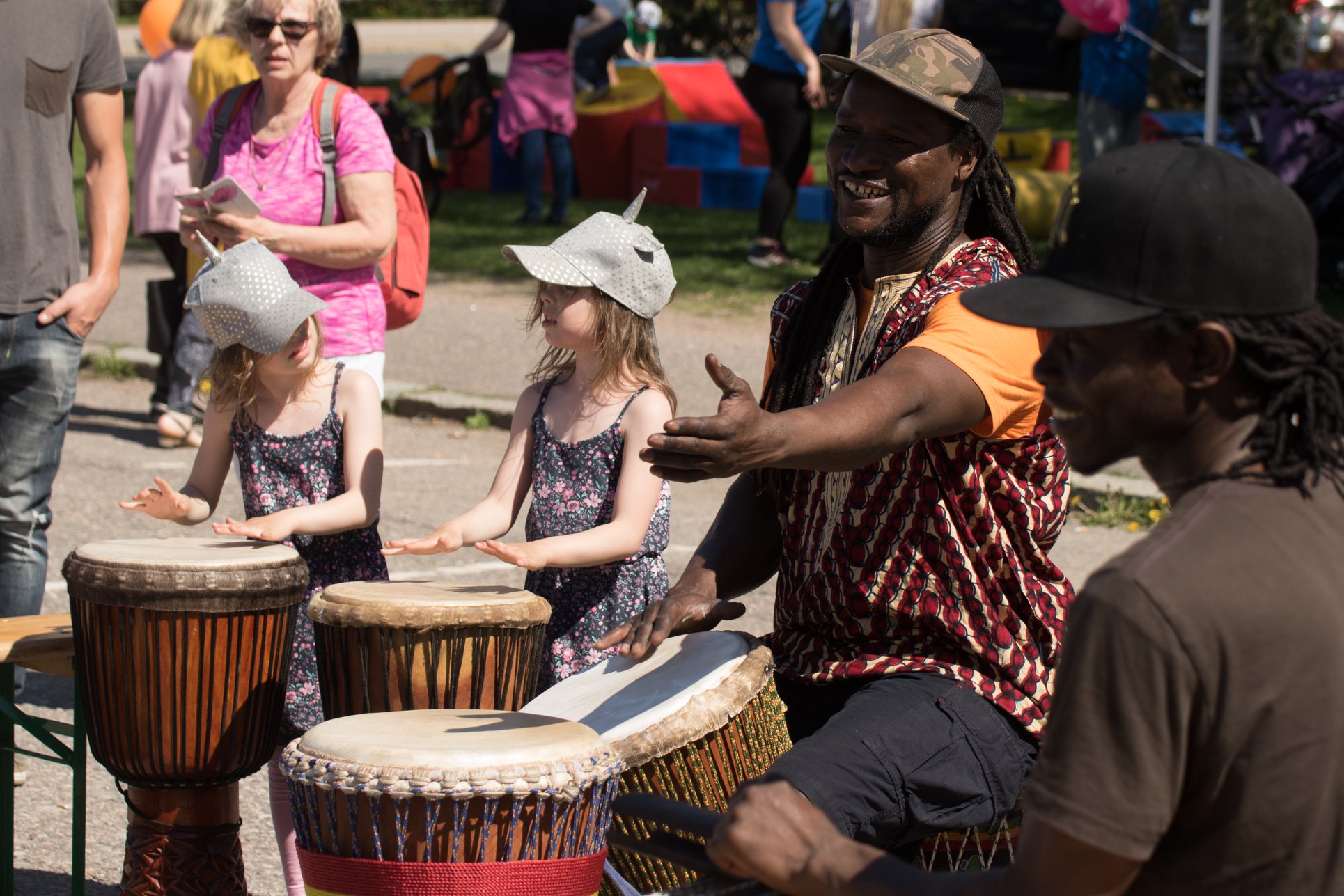 Festival of the Sun
In the Festival of the Sun, where the Tikkurila run free, I settle between the drums and the pungent scent of damp earth. Fresh and moist, it gives away winter's passing secrets. Life in smell, grains of grass sprout between dead broken leaves embattle cross breezes, teasing me.
African drums beat in a unison of times moving over continents, connecting countries where surrounding festival goers are enlightened by the collections of origins.
The slow uncertainty of a shy tourist drummer follows with his awkward smile. The leader calls to his team to echo him. Itch on my palm shows red marks where the damp grass push upwards as I take the pressure from the weight of my thoughts. The heat on my back gives me such a relief as I thaw from my winter's retreat. Slow basic rhythm collects three worlds together and mine collides. A pretty little Finnish girl dances along with them.
As I walk towards the stage area a red drum in a backpack walks past. Doof doof beats set a new fresh rhythm. Drum and bass plays as the waste flies by. Me, on fresh grass. Busy families pause, waiting for centre stage to give them something new. Rastafarian music bounces out from the speakers and catches their attention. The words are in Finnish. As I make my way over to hear the children play, I see a woman fixing her ponytail. I can hear the abrupt roll of a boy's scooter on the pebble stones beside me. Sounds of joy from the playground are interrupted by a crying toddler chasing after her parents, trying to get their attention.
The bass of rasta rhythms pound and pull me back to connect with this moment. Feathery seeds fly in the wind from the large populous tree near the playground and wake me from my thoughts. A boy in a red spider man shirt pounds the feathered seeds together as he claps silently. The seeds fly in the wind and I delight when one tickles me as it rests on my nose.
For the first time in a long time I feel alive, connected and joyful. I feel cultures coming together here. It is not forced. I see no red. Just music.
©???ℎ???? ?????????
Listen to the Festival of the Sun read by poet Nathalie Sallegren.